People's "Sexiest Man Alive" Issue Eyes Luke Bryan's Booty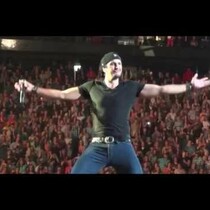 Posted November 21st, 2013 @ 11:15am
Maroon 5's Adam Levine may have taken the title when it comes to People magazine's Sexiest Man Alive for 2013, but Luke Bryan has bragging rights when it comes to country stars.
Calling him a "37-year-old country cutie," the magazine asserts "it's that booty that's really being noticed," pointing out his backside is so popular, it has its own unofficial Twitter account. The magazine also cites the more than 1.2 million views for the YouTube mash-up of Luke's dancing, set to "Don't Drop That Thun Thun" by Finaticcz.
Both Luke and Blake Shelton make the magazine's "Sweet & Sexy" list, while Blake represents Oklahoma in People.com's slideshow of "The United States of Sexy." Dierks Bentley occupies the Arizona spot, while West Virginia native Brad Paisley checks in for his home state.