Pearl Jam Cancels Show After Eddie Vedder Loses Voice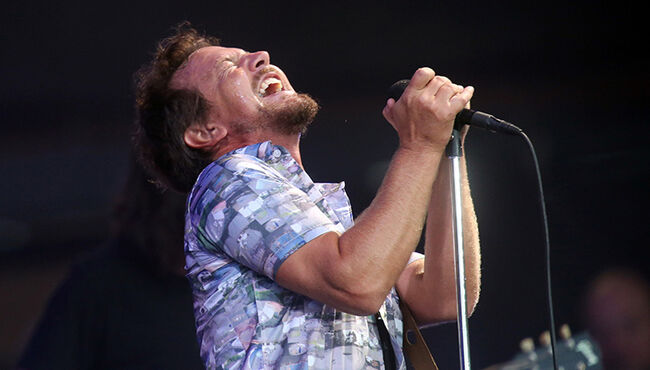 For the first time ever, Pearl Jam has had to cancel a show because of vocal problems singer Eddie Vedder is dealing with.
The Rock and Roll Hall of Famers canceled their scheduled Tuesday, June 19, show at London's O2 Arena. The band says it's working on rescheduling the show for mid-July, presumably before the band returns to America.
"Ed and the band are gutted thinking of all the folks who have traveled and made plans," read a statement released by Pearl Jam. "Sending their biggest apologies out to everyone and huge gratitude for all for the continued support."
Vedder as "completely lost his voice," according to the statement. The singer has been ordered to rest his voice for the next few days.
Tickets for the O2 Arena show will be honored at the rescheduled date. The band added that it believes it will be able to continue the European tour at its next stop, June 22, in Milan, Italy.
After the tour of Europe, Pearl Jam will have a few weeks off before embarking on a tour of U.S. baseball stadiums in August.
Get all Pearl Jam's tour dates here.
The band has pledged to raise $10 million this year for the fight against homelessness, including $1 million from two upcoming shows in Pearl Jam's hometown of Seattle, WA. Fans can lend a hand by donating, volunteering or getting more information here.
Although fans are eagerly awaiting a new album, Pearl Jam bassist Jeff Ament says the band isn't rushing into the studio after its touring obligations this year are fulfilled. He says the band has music written, but the band members want to "live with the ideas" for a bit longer.
Pearl Jam released a new song this winter called "Can't Deny Me."
Photo: Getty Images